The first Taji 100 was held at former Camp Taji, in Al Taji, Iraq, in February of 2010. The once-thriving American military base was located in a rural region approximately 20 miles north of Baghdad. During the Saddam years,the camp was an Iraqi Republican Guard base central to the production of chemical weapons. Camp Taji was heavily bombed during Operation Desert Fox, and came under American control in 2003.
Captain Carole DiPardo, 211th Military Police Battalion, created the friendly competition for her fellow troops in Camp Taji with a simple goal: Run 100 miles during the month of February. Although DiPardo originally established the challenge to promote cardiovascular health and fitness, the run was also instrumental in helping stationed U.S. service members relieve stress and boredom during what were often long and tedious deployments. With nearly 300 regististered runners and walkers its first year, the inaugural Taji 100 was a huge success.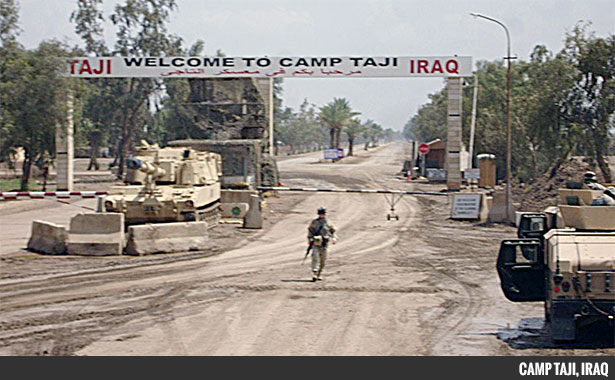 Paul Fukuma, President and Chairman of Taji 100, was a participant in the first race while serving as a US Army Combat Medic in Taji, and has competed in 5Ks, 10Ks, and half-marathons ever since. To help others follow through with their New Year's health and fitness resolutions, he organized the first stateside Taji 100 in 2011. Fukuma says, "I see most people's New Year's Resolution motivation start to fade after only a month. This competition will help to keep those fitness promises and hopefully get people over that slump in motivation."
Mission Statement
The mission of Taji 100 is to encourage health and fitness by promoting an active lifestyle. Working collaboratively with the members and businesses of our communities, we offer products, education, resources, and services though a peer-supportive network. While encouraging, motivating, and inspiring healthier Americans, we simultaneously raise awareness and support for American military service men and women by collecting donations for military related non-profit charity organizations.
Race Rules
Objective
Walk, jog, run, hike, or elliptical 100 miles within the 28 days of February 2021.
Date & Time
START: 0000 Hours (12:00am) February 1st.
FINISH: 2359 Hours (11:59pm) February 28th.
Time zone is based on your local time.
Equipment
Treadmills and elliptical machines are acceptable. Stair climbers, cycling, swimming, rollerblading, hot air ballooning, hover boarding, magic carpets, etc. are NOT PERMITTED.
Wheelchairs, handcycles and other similar equipment are permitted to allow athletes of all physical capabilities to participate. Devices shall be manually powered and not motorized. We recognize that 100 miles may not be a suitable goal and we encourage you to set your goal in the spirit of the Taji 100 challenge. Please contact us at info@taji100.com if you need a personalized challenge goal.
GPS tracking devices are not required. Taji 100 is not capable of linking GPS devices to your account, or connecting your account to other types of athletic tracking services such as Nike, Dailymile, Runkeeper, etc.
While many professionals walk a great deal during their duties (i.e. nurses, postal workers, etc.), using the data from a pedometer/GPS while at work will NOT be accepted.     Exception: Work mileage is permitted if your duties include running, jogging, etc as a form of exercise (ie: You teach physical fitness, are a personal trainer, professional dog walker, etc.).
Submitting Entries
This is an HONOR SYSTEM! Please take pride in what you have done and stay truthful about your entries. Honor. Integrity.
Deadline for entries into the 2019 Taji 100 Challenge is 3/1/20 at 2359 hours (11:59pm). Any mileage entered on 3/1/20 shall have been completed prior to the event deadline of 2/28/20 at 2359 Hours (11:59pm). Any entry given after that deadline will not be counted.
While the website does offer the ability submit entries several days, and even weeks, after the actual date/time you completed the workout, we ask that you enter the data within a reasonable time after completion. This keeps the standings accurate, and allows us at Taji 100 to place finishers accordingly in their respective divisions.
All mileage entries will be collected and managed by taji100.com. All entries must be submitted through our tracking service. Entries submitted via email to the Taji 100 staff, or recorded on another service, will not be accepted.
If you do not feel comfortable using the taji100.com site to manage your data, you may still register and participate in the event. Please notify us of your intentions to participate without use of our online tracking service. Your name will be listed as an "Honorable Mention" competitor. You will have full access to all features, events, products, and promotional offers that you are entitled to*, but your mileage will not be tracked. Therefore, you will be not be placed in divisional standings, and will not receive any of the possible prizes.
*Site features and other eligibilities subject to donation standing as described in "Financial" section of the Race Rules, and the Terms and Conditions.
Sponsors
While sponsorship is not required, it is HIGHLY encouraged to support your efforts and help raise funds and awareness for Team RWB.
The recommended method of sponsorship is to have your sponsor pledge a certain amount for every mile you complete. This can be done up to 100 miles or as many miles as you can do in 28 days. Example: Your sponsor pledges $0.10 for every mile you complete up to 100 miles. If you complete 100 miles, they donate $10 to Team RWB.
To help us track your donations, we ask that you process any donations, as part of the Taji 100 Challenge, through our webpage.
Sponsors and Competitors will can donate as much and as frequently as they desire.
Financial
Entrance "fee" for this event is included in the package purchased during registration. You will be guided through this payment during the registration process.
Keeping with the history of this event, and in line with our Mission Statement, there is an option to compete free of charge. This allows anyone on a financially tight budget to still participate. Participating as a non-donating competitor will restrict certain features of the website from use (ie: entry analytics, certain profile edits, etc), however you will still have access to the same tracking features as a donating member. Being a non-donating member will also remove eligibility for any prizes or free item giveaways. To compete free of charge, simply select the appropriate package during the registration process.
Competitors may choose to become a donating member at any time during the event. An option to buy-in will be available on their profile page throughout the event.
Taji 100 may use Stripe or PayPal to process financial transactions. Donations are subject to their service fee of 2.2% + $0.30 on each transaction.
All donations* will be given directly to Team RWB.
*All monies collected by PayPal are subject to their fee structure and will be calculated accordingly. In the event operating costs for the event exceed the revenue received from product sales and donations to Taji 100, Taji 100 reserves the right use funds from the RWB donations to cover the difference. The amount taken from the RWB donations will not exceed the amount needed to "break even". 
Taji 100 is completely nonprofit. No member of the Taji 100 staff receives monetary compensation for their time and hard work! This is 100% labor of love.
All financial records and receipts will be posted on our website, Facebook page, and emailed to all registered users. Team Taji believes in being completely transparent and we will make every effort to show where every penny is going.
Taji 100 is a registered 501(c)(3) nonprofit organization headquartered in Gilroy, California.
Taji 100's federal ID number is 46-5516006.
Products
The purchased package during the registration process will include a 2021 Taji 100 shirt, Race Bib, and Decal. Sizes and gender cuts are very limited in quantity and subject to availability. The purchase does not include a Race Medal.
Race Medals are given, free of charge, to the first 2,750 registered participants purchasing the package. These medals are tokens of Taji 100's appreciation for your participation and early commitment to the program. These medals are extremely limited in quantity and will not be re-ordered. They are given on a first come first serve basis, so please register early to ensure you acquire one.
Additional items may be offered during the registration process. These are also limited in quantity and subject to availability.
After the registration period closes, the remaining Taji 100 shirts and products may be purchased through the Taji Store. Purchase of Taji products from the store is separate of the entrance fee during the registration process.
Awards, prizes, and services are based solely upon the generosity of our partners, sponsors and supporters. Since these items and services are gifts from outside companies, we at Taji 100 cannot make any guarantee(s) to the authenticity or quality of the products or services. If there are any problems or concerns with the products or services received, we ask that you address those issues with the donating company/agency.
Taji 100 partners and sponsors are not obligated to provide any products, services or other merchandise outside of their respective MOU with Taji 100.
In the event a certain size/ gender of 2021 Taji 100 shirt is sold out, we will try accommodate the needs of our participants. However, we reserve the right to not restock any/ all items.
Local merchandise pickup will not be offered this year.
Social
It is highly encouraged to post your accomplishments on the Facebook page, but it is not required. Be proud of your accomplishments! We are very proud of every mile you complete and want to see it displayed proudly. Seeing your achievements will help to motivate others.
All posts must be profanity, obscenity, and abusive free. This is a friendly competition! Any competitor found posting abusive, profane, obscene, or otherwise inappropriate material will be REMOVED from the competition and may be in forfeit of all funds paid. We will have a zero-tolerance stance on this topic, however each case will be judged individually and voted on by the board of directors.
Health & Safety
This is a hard challenge. Please be physically and mentally prepared to face it. It is highly encouraged to start training prior to February. Stay hydrated! That doesn't mean drink soda and beer. Drink plenty of water and eat healthy! You will be burning a lot of calories so stay properly fueled.
Use proper footwear, equipment and clothing dependent on your running environment. If you feel any pain, stop, and immediately and seek appropriate medical care. Please use common sense. Due to the abundance of dangerous drivers these days, use caution when running outside. If you trail run, please be aware and cautious of wildlife. Safety in numbers is high encouraged! Please run/walk in groups and take care of each other.
Obey all local, state and federal laws.
Team Taji strongly recommends that you consult your primary care physician before beginning the Taji 100 Challenge, any new exercise/ workout program, or new diet.
Training Tips
Welcome!
Here are some ideas that I hope will assist you in attaining your goals for the 2021 Taji 100.
A Little League coach of some years ago taught, "If you can conceive it, you can achieve it." So true. So, I encourage you to apply your minds as well as your bodies to this endeavor … Visualize yourself getting out the door every day according to your plan … Visualize yourself satisfied and strong at the conclusion of every outing … Visualize your name on the Taji 100 scoreboard on March 1st with all those miles under your name!
Please note these are guidelines only. Since everyone's body is just a little different, you should experiment and see what's best for you. If you already have a program that works well, but is different than what is offered here, stay with what works. Whatever you do, listen to your body. It is telling you just about everything you need to know; it just uses a different language, and sometime it only whispers. That's when body-sensing becomes such a valuable tool. From anticipating a need for water, to detecting unbalanced arm swings, to making full use of the lungs, sensing what one's body is doing and what it needs leads to efficiency in running and reduction of injuries.
HYDRATION
Research over the last several years has concluded that all one need do is keep normally hydrated during activities. There is no benefit for extra consumption of liquids leading up to a workout or an event. Urine color is an excellent indicator of hydration …
Assuming you are normally hydrated …
Before workout: Drink about 6-10 oz. of water within about 20 minutes of the start of your run.
During: If running longer than 45 minutes carry water with you. Sip along the way or drink about 6 oz. every 20-30 minutes or so. Since we perspire at different rates, adjust to what works for you. Harder workouts and hotter days both require more fluids, sometimes a lot more. Water is all most people need if out for an hour or less; over an hour, many find 'sports drinks' beneficial since they contain electrolytes. See what works for you.
After: Rehydrate. Follow the color chart above.
NUTRITION
Before: Again, research has shown there is no benefit to "carbo loading" the night before an event or heavy workout. Normal consumption of nutritious foods in line with a food pyramid is all that is necessary. However, a few extra carbs (~25g) about 20 minutes before a run is very worthwhile. Just make sure they are complex carbs, not simple ones like sugar.
During: Every 45-60 minutes take about 25g more carbs.
After: Within 20-30 minutes…Protein to rebuild muscles, carbs to restore depleted stores, water to rehydrate, sodium for, well, sodium. And you can find them all in the proper proportion in…Chocolate milk! (An 8-oz. serving of low-fat chocolate milk also contains 2.5 grams of fat, 5 mg of cholesterol, 190 mg of sodium, 8 g of protein and 29 g of carbohydrates, including 1 g of dietary fiber; also 10 percent of the RDA of vitamin A, 6 percent RDA of vitamin C and 4 percent RDA of iron.) But whether you go for the chocolate milk or not, get the protein, the carbs and the fat roughly in that ratio to help your body recover and build for your next run.
WARM UP
Again, recent research has concluded that stretching cold muscles is counterproductive. If you do need to stretch, say for a specific injury, do so after warming up. But before every run, some loosening up will help eliminate injuries and make your run much more enjoyable. And for your Taji 100 runs, a warm up will let you start out just a bit more quickly than you would without a warm-up. There are all kinds of movements you can do, among some favorites are jumping jacks, ankle rotations, knee circles, hip circles, leg shakes, strides, leg swings (front/back and sideways), neck rolls and more. BE sure to do some motion for each part of your body.
RUNNING
Most runners start out too fast and end up too slow. During training, this tells bodies it's okay to be crashing at the finish line. So while training, you want to start slowly and finish more quickly, thereby building strength and endurance. During an event, or during your Taji runs, you will maximizes speed—and therefore distance—by running at a consistent pace for the entire run. In fact, all world records in distance running are being set when the runner has consistent splits (minutes per mile) throughout the race!
FUN WHILE RUNNING
Mix it up. Different routes, different times of day…With buddies, without buddies, different buddies. Sprint to the corner…Walk to the mailbox. Street, trail, beach, flat, hilly, the high school track. Smile. Say hi to every dog. Do an out-and-back from your favorite coffee brewer, pub, deli, sweetie. Run sideways for 10 yards…Switch sides…Repeat. Run backwards for 10 yards. Slalom down a hill.
COOL DOWN
Rehydrate while you walk or take a very easy jog. And stretch, especially calves, hamstrings, and quads. Plenty of good suggestions online; try YouTube. And yoga is excellent.
HILLS
Going up: Hills are for energy conservation. Shorten your stride forward and stay tall. As the slope increases, treat hills like stairs: Even shorter stride forward, slight tilt forward and let the glutes and quads (butt and thighs) do the work.
Going down: Resist the urge to take long strides forward as that dramatically increases the shock to your body, which dramatically increases the risk of injury. Keep your forward stride short and let your stride lengthen behind you as you glide down the hill.
BREATHING
Most runners only use about 70% of their lung capacity. Between poor posture and shallow breathing, the lungs are terribly underutilized. Think long neck…long spine…And ever so gently pinch together and drop your shoulder blades. Then take full breaths without straining. This will pay off in a big way, but may take some practice.
CROSS TRAINING
Your core is your answer. Efficient, injury free running requires the use of your core. And your core isn't a six pack. A core goes from the pubic bone to the arm pits and all the way around. Cross train accordingly.
REST
In an event like the Taji 100, there's a risk that participants will try to go every day. If you are at that level of fitness—and youth!—then that's up to you. But rest is terribly important because it allows the body to recover and build. That applies both mentally and physically. One day (or two) off per week early in February may well prevent the injury that will sideline you for the entire final week.
GOOD LUCK!
And many, many thanks for participating in the Taji 100!
ED MALLEY
Certified Chi Running Instructor
ed@runwalkcoach.com
RunWalkCoach.com
© Ed Malley 2013
Suggested Running Schedule
For many, the Taji 100 will be the largest amount of running you've ever done in such a short period of time. We suggest you NOT run 3.5 miles EVERYDAY, but allow yourself two rest days a week. On RUN days, we suggest a one mile warmup, three mile run, and one mile cool down. Following this schedule, you'll complete your 100 miles in 28 days, yet allow your body its much needed recovery time. Adjust the calendar to fit your specific needs and schedule.
Four Simple Steps to Good Form
About the Experience
For many, the Taji 100 Challenge is among the most difficult and most challenging events they will ever face. One hundred miles in twenty-eight days is not for the squeamish, the weak, or the unfocused. You come out on the other side of mile 100 a different person, a better person. We think our past runners say it best:
"I am proud to say that I am a Taji 100 Veteran of February 2012. In January of this year, I set a goal to run one half marathon every single month. Although I had just completed my first race, the 26.2 Nike Women's Marathon in October of 2011, it is safe to say that upon setting that running goal for the 2012 year, I was a novice runner. However, the Taji 100, although extremely daunting at the beginning, kick started me into my feverish addition with running. Every single day, I found myself wanting to run more and more because the thrill and the runner's high I would receive was absolutely no joke. After completing my half marathon for the month of February (the Kaiser Permanente San Francisco Half), I found myself eager to train and push myself to the next level. The Taji 100 held me accountable for that training throughout the month of February. It committed me to a work ethic of running that carried me through the rest of the year. Because of the Taji 100, my dedication to my goal became so much more intense, and without it, I can honestly say that I would have had a much more difficult time achieving my goals. I now stand as 2012 running veteran, with 11 half marathons completed, one full marathon completed, one 5k completed, one 8k completed, and one 10k completed today, with my last half marathon this weekend. I am proud to add the Taji 100 to my running accomplishments for this year because without it, I would not be where I am today. Thank you so much for the Taji 100 experience and opportunity. Run on!"

— Megan W, San Francisco, CA
"I'll keep it short but sweet…Never thought I had the time or strength to run 100 miles in a short month; Never thought of myself as a runner, yet here I stand, full of confidence that yes, indeed, I can, and I did, and I still do. Most importantly, the BEST aspect of the Taji 100 challenge was meeting and connecting with such an amazing group of people :)"

— Shelly R
"I'd like to take a moment and reflect on the inaugural Taji 100 challenge last February. Put simply, it's an amazing and simple challenge – walk, jog or run 100 miles during the month. As a guy who didn't run much, this program got me out and about, despite extremely cold temps on the East Coast. After getting used to making exercising a routine, I used Taji 100 to motivate myself to drop 20+ lbs!!! Lastly, the idea of getting a bunch of people together with one common goal, really helped motivate me when it would have been easier to watch TV !!! Thanks a million to Paul, Coach "B", Ali, Coach "J" and the new friends I acquired a year ago. I look forward to February!!!! "
— Denny the Bull, Baltimore, MD
"The Taji 100 was a great race to participate in because it helped keep me running and walking during the cold, winter months. I set goals for myself each week and each day so that I could finish the 100 miles in a month and felt satisfied reaching it. This is an event that can be accomplished by anyone that puts their mind to it! "
— Diana K, Silicon Valley, CA